AMASOMERO agamu gamaze okwetegeka okuggulawo gayingize abayizi ba P6, S3 ne S5, wabula ate agamu bannannyini go basangiddwa baagakyusa dda, ebyali ebibiina ne babifuula emizigo gy'abapangisa olw'ebbanga eddene lye gamaze nga gaggalwa.
Essomero lya Scarlet Junior School e Kabowa baaliggyawo ne batemamu ennyumba z'abapangisa era ebyali ebibiina kati gyafuuka mizigo. Nnannyini ssomero lino, Zaituni Namwanje yategeezezza nti ekifo yali akipangisa wabula nannyini kyo bwe yalaba ebbanga lyekulungudde nga tekikyavaamu ssente ate nga n'essuubi ly'okuggulawo amasomero ttono, kwe kukyusa n'alifuula ennyumba z'abapangisa.
Nnannyini bizimbe yagumiikiriza emyezi etaano okuva mu March 2020 lwe baggala amasomero era mu August 2020 n'alagira abadde nnannyini ssomero aggyemu ebibye asobole okuteekamu abapangisa.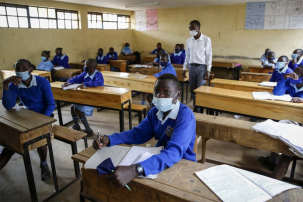 "Nnali nfunye essuubi nga ndowooza nti Gavumenti enaatuyambako mu byensimbi ne twetereeza, naye tetulina kye twali tufunye wadde nga batusuubiza bulijjo." Namwanje bwe yagasseeko.
Kabineeti eyatudde ku Mmande lwakkirizza abayizi badde ku masomero kyokka baakuddayo mu biwagu era abagenda okusooka okuddayo be bali mu bibiina; P6, S3 ne S5. Bagenda kusangayo bannaabwe abali mu P7, S4 ne S6 abali mu nteekateeka z'okukola ebigezo by'akamalirizo ebitandika omwezi ogujja.
Abayizi b'ebibiina ebirala basuubirwa okudda mu masomero nga bannaabwe abali mu bibiina eby'akamalirizo bamaze okukola ebigezo byabwe ebya PLE, UCE ne UACE.
Gavumenti yawadde amagezi nti amasomero agatalina bizimbe bimala abayizi baakusoma mu mpalo, abamu basome ku makya abalala akawungeezi okusobola okwewa amabanga ng'erimu ku makubo ag'okulwanyisa ekirwadde kya Corona.
ABAMASOMERO BALAZE BWE BEETEGESE OKUGGULAWO
Nnannyini ssomero lya Direct Infant Orphanage Centre erisangibwa ku kyalo Buvundya mu ggombolola y'e Gadumire mu disitulikiti y'e Kaliro, lye limu ku masomero agalemererwa okuggulawo okusomesa abayizi b'ebibiina by'akamalirizo, okusoma okwatandika nga October 15, 2020 kyokka ku mulundi guno balina entegeka okuggulawo bayingize abayizi ba P6.
Patrick Daire nnannyini ssomero lino agamba nti: Saasobola kusomesa bayizi ba P7 kubanga omuwendo gwabwe gwali mutono nnyo. Abayizi abamu baali bakutte amakubo malala omuli n'okufumbirwa, ng'omuwendo ogusigaddewo tegusobola kuyimirizaawo ssomero, ne nsalawo eky'omusanvu okukireka.
Yayongeddeko nti: Wabula kati ndi mwetegefu, wadde nga baatugambye kusooka kukkiriza kibiina kimu ekya P6, nja kutandika okusomesa nga bwe nninda Gavumenti lw'enakkiriza ebibiina ebirala byonna okuggulawo.
Ebbanga lyonna mbadde nneetegekera kusomesa, ekirungi tuli mu sizoni ya makungula, nnalimye emmere ewera ey'okuliisa abasomesa n'abayizi, n'ebyetaagisa ku bya corona nabigula, tujja kutandika nga bwe tulinda n'abalala.
Haji Ishaq Mbalirwa, akulira essomero lya Madiinah Islamic SS e Katereke
Nsangi yagambye nti: Abaamasomero tuli beetegefu okusomesa, ekisooka ebyetaagisa okwetangira obulwadde bwa corona tubirina, kubanga bye tubadde tukozesa ku bayizi b'ebibiina by'akamalirizo abali mu kusoma kati. kyetusigazizza kwongerako bwongezi ku muwendo bibe bingi okumala abayizi bonna abagenda okutwegattako.
Ekirala, abayizi baba bulungi nnyo ku masomero mu kwekuuuma ekirwadde kino okusinga nga bwe kiba nga bali awaka kubanga ku masomero balondoolwa.
Martin Kananura, ssentebe w'olukiiko olufuzi olw'essomero lya Ntare School e Mbarara naye yakkaatirizza nti amasomero mangi geetegese okuyingiza abayizi.
Yalambuludde nti: Tuli beetegefu nnyo okutandika okusomesa abayizi bonna, okubaawo kw'abayizi b'ebibiina by'akamalirizo be tubadde nabo batuyambye kinene okweteekateeka obulungi n'okwetegekera embeera eno. Ebikozesebwa okwetangira ekirwadde kya corona tubirina era tumanyi ne we bigulibwa, abazadde baffe nabo bamanyisiddwa ku kirwadde kino, kale tekyali kirobera kuggulawo.
Barbara Namulindwa, akulira essomero lya City Junior School Nateete yagasseeko nti: Kye tusaba be bazadde okubeera obumu naffe, tulabe bwe tutuukiriza ebyetaagisa abaana okusoma. Tetusobola kusubwa mukisa guno ogw'abaana baffe okuddamu okusoma nga twekwasa obusonga obutono, embeera kati tugimanyidde era tumanyi eky'okukola okwetangira corona.
Abaana abamu babadde basomera ku TV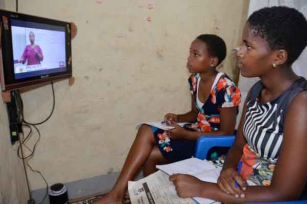 Edward Lule, nnannyini Busega Preparatory School yagambye nti: Twatandika amasomero gano nga ffe, tulina okuddamu okutema omusingi mu mbeera eriwo, tukwatagane n'abazadde tuyambagane, tuleme kukaabirira Gavumenti.
Olw'okuba twasobola okutandika amasomero, era n'ebyetaago byonna tubituukirizza, buli ekyetaagisa okusomesa mu mbeera eno eya corona tukirina ku masomero gaffe, tulinze kimu Gavumenti kukkiriza bayizi bonna kudda basome, kuba ne ku bano ab'akamalirizo be tulina mu masomero tukikoze bulungi era tetunnawulirayo mbeera yeeraliikiriza mu masomero yonna gye basomera.
Agnes Nuwagaba akulira City Junior School e Bulaga yagambye nti: Abaana bafunidde ebizibu bingi awaka, ekifo ekisinga obulungi mu kukuuma abaana lye ssomero era tusaba bonna bakkirizibwe okusoma. T
utambudde bulungi ku bano aba P7 awo bonna ne bwe bakkirizibwa okusoma ffe tuli beetegefu okwewala corona n'okusomesa awatali kwekwasa kintu kyonna kuba twetegese bulungi.
Asadu Kirabira, akulira amasomero g'obwannanyini mu Kampala era akulira eby'okunoonyereza mu kibiina ekigatta amasomero g'obwannanyini mu ggwanga ekya; National Private Educational Institutions Association yannyonnyodde nti: Bw'otunuulira enteekateeka nga bw'eri, abayizi abagenda mu bibiina okuli; P6, S3 ne S5, be bokka be bakkirizza okutandika okusoma, ate nga balina okutandika nga bannaabwe baamalirizza okukola ebibuuzo, kitegeeza ekyaliyo ebbanga lya myezi ng'ebiri balyoke nabo batandike.
Yayongeddeko nti: Ffe abaamasomero naddala ag'obwannannyini tuli beeteefuteefu okutandika okusomesa abayizi bonna ate ekirungi, alipoota eyakolebwa minisitule eraga ng'amasomero g'obwannannyini ebitundu 88 ku 100 beetegefu okusomesa, y'ensonga lwaki tetufunye buzibu mu kusomesa abayizi b'ebibiina by'akamalirizo.
"Tulina emikutu naddala WhatsApp n'emikutu emirala nagyo tugyeyambisizza okubangula bannaffe n'okwewa amagezi. Gavumenti tugisaba eggulewo amasomero eri abayizi bonna.
Nb
Naye no nga omusolo muyitirivu governmenti gwefuna munsonga ga zino ezokusomesa abaana.
Ensonga zino zilaga bulungi nga ensi ya Uganda bwetalina masomero gankomeredde ne ttaka nebizimbe.
Kale laba kussomero nga lino
Baddukira mu Kelezia enkuba bwetandika okutonya