THE UGANDA MILITARY POLICE IS BUSY CONTROLLING THE REPUBLIC OF UGANDA AS DR OBOTE WANTED IT:
27 June 2016
The supporters of Prince Umar Asiimwe relocated to Dinners Restaurant along the Mbarara-Kasese highway where they reconvened to welcome Prince Asiimwe.
The police block people from accessing the venue for the meeting at Dinners hotel in Mbarara on Saturday. Photos/Wilson Asiimwe
Police has cordoned off and tightened security at the headquarters of the defunct Ankore Kingdom to block a demonstration organized by opposition factions to install prince Umar Asiimwe as the new king of Ankole kingdom.

Heavily armed anti-riot policemen and plain clothed security operatives were on Saturday deployed along the roads leading to the Kingdom offices in Kamukuzi ahead of an anticipated demonstration.

Police also ordered all the people who had gathered at the venue to leave.

The supporters of Prince Umar Asiimwe relocated to Dinners Restaurant along the Mbarara-Kasese highway where they reconvened to welcome Prince Asiimwe.
Mbarara, DPC Jeffer Magyezi (in blue shirt) talks to Prince Umar Asiimwe( with a walking tick) after stopping the meeting at Dinners hotel in Mbarara

However, Police under the command of the district police commander stormed the venue and ordered the meeting to stop.

"We cannot allow the meeting to take place because there are two conflicting parties, they have to first harmonize to allow them," said Jaffer Magyezi, the DPC Mbarara before ordering all the people out of the hall.

He said that police had earlier cleared the group to hold its meeting at Kamukuzi council hall but William Katatumba, the chairman of Ankole cultural trust petitioned the police that it would cause chaos in the area.

"It's true we had cleared the meeting but another group has opened a case with police and we found it necessary to block the meeting and we shall also not allow the Katatumba group to hold any meeting before they harmonize because we have identified a lot of conflicts which may lead to violence," said Magyezi.

Max Muhumuza, the chairman of Abahinda Community Development Association, the group that had organized the meeting said that they had already petitioned the president and the speaker of parliament to intervene in the wrangles surrounding the restoration of Ankole kingdom.
Some of the people who had turned up for the meeting leave the venue after police blocked the meeting

"Ankore cultural trust is different from Nkore kingdom, I therefore don't see the reason why its members continue interfering with the affairs of the kingdom," said Muhumuza.

He said that the group was considering suing Ankore cultural trust for blocking their meeting because it had incurred a lot of expenses in organizing the it.

While addressing his supporters before the meeting, Prince Asiimwe said that he was the rightful heir to the throne and urged all the people to rally behind him so that he can restore the defunct kingdom.

"All the kingdom property has been sold off, people have forgotten their culture and we need to bring everything to order, we have moved in all the ten districts that make up Ankole and people are willing to offer us support," said Asiimwe.

William Katatumba, the chairman of Ankole cutural trust when contacted on phone said that he did not know the group and that he ordered for the blocking of the meeting because it would divide the people.

Obwakyabazinga lwe baabugabira mu kkooti mu

1962 WANO MUNSI EYE BUSOGA.
(Ensi Uganda yali tenaba kufuulibwa Republic. Mu Democratic Republic temubeera nakamu bafuzi ba nsikirano).
ENGERI Omulangira Gabula Nadiope 1V gye yalayiziddwa ku Bwakyabazinga bwa Busoga enzijukizza ebyaliwo mu 1962 nga Sir William Wilberforce Kadhumbula alondebwa ku kifo kye kimu.
Kyabazinga Gabula Nadiope muzzukulu wa Kadhumbula Nadiope. Gabula yalondeddwa Abalangira 10 ng'Omulangira Muloki taliiwo, ne ku luli mu 1962, Wako Muloki (taata w'Omulangira Wambuzi eyawanguddwa) teyaliiwo nga balonda Nadiope ku Bwakyabazinga!
Mu 1962, Muloki yakifuuwa akizza munda, bwe yava e Nairobi mu Kenya ng'Obwakyabazinga Nadiope abututte ne biggweera mu Kkooti nga bwe kiri kati.
Ponaiyano Kayanga (70), Ssentebe w'ekika kya Baise Musuubo, anyumya katemba eyaliwo.
"Ameefuga ga Uganda bwe gaayengera, Abazungu baayagala buli kitundu kibe n'omufuzi w'ennono anaakikiikirira ku mukolo gw'ameefuga. N'olwekyo Busoga yalina okulonda Kyabazinga kuba embiranye eyaliwo wakati w'Abalangira Nadiope ne Muloki efaanana n'ebaddewo.
"Muloki yali awang'angukidde e Nairobi mu Kenya olw'ensonga z'ebyobufuzi kuba yali wa DP lukulwe, ng'atya gavumenti ya Dr. Obote eya UPC okumutuusaako obulabe, kuba ekisanja kye okuva mu 1955 okutuusa mu 1961 yagattikamu ebyobufuzi.
"Aba ali eyo, Abazungu ne bassaawo nsalesale buli kitundu kireete amannya g'abafuzi b'ennono, ekyawawaliriza Olukiiko lwa Busoga okutuula mu bwangu ne lulonda Nadiope.
'Muloki yadda kipayoppayo n'awawaabira Kyabazinga Nadiope nti yali tasaana, omusango ne gutandika okuwulirwa.
"Omusango gwazuuzumba okumala ebbanga , Omulamuzi eyali Omuzungu n'agutyemula nti, 'Muloki osinze ensonga, Nadiope osinze omusango!'
Abantu baasooka kuwugulala ng'amakulu g'ensala gabalemye okutaputa, Omulamuzi n'atangaaza nti, 'Muloki asinze ensonga kuba lwe baalonda teyalumanya n'atajja, ate Nadiope asinze omusango kuba yaliwo n'ebyaliwo n'abyetabamu," olwo ne bafubutuka mu Kkooti wakati mu nduulu ey'oluleekereeke!
Emmanuel Babalanda, omukiise mu Lukiiko lwa Busoga agamba nti ebivvulu by'okuwangula omusango byamala mwezi mulamba! Muloki yabimma amazi okutuusa mu 1994 lwe yaddamu n'alondebwa okutuusa lwe yakisa omukono mu 2008.
WAMBUZI YABADDE WA?
Kyokka weebuuze nti kiki ekyasubizza Omulangira Wambuzi Obwakyabazinga? Yabadde wa nga balonda! Okuva mu 2008, Muloki bwe yafa, entalo z'obusika zikwajja era yadde Gabula yalondeddwa, tezinnaggwa.
Nga 30 October 2008, Abalangira 7 baakung'aanira e Bugembe ne balonda Wambuzi kyokka gye byaggweera ng'Abalangira abamu bamuwakanyizza era e Bugembe baavaayo misinde nga beekunkumula olw'eddagala erisiiwa lye baabayiwa mu makanzu!
Abaawakanya baali bawagizi ba Gabula wabula bali baagenda mu maaso ne batwala Wambuzi ku kasozi Mpumudde we bakolera emikolo ku Kyabazinga omuggya, waayita lumu abakungu b'e Bugembe ne bamwanjulira Olukiiko ne lumukakasa.
Kino tekyagaana bali kugenda mu maaso na kuwakanya, ekyawaliriza Pulezidenti Museveni okubiyingiramu, aba Wambuzi baalemerako.
Nga 5 October 2009, Abalangira 7 baalonda Gabula ku Busoga Square, baba bamutwala ku kasozi Mpumudde ne basangayo Poliisi n'amagye ne gabafubutula.
Oluvannyuma, Museveni yatuuza Abalangira bonna ne basazaamu okulondebwa kwa bombi, n'abasaba baddemu balonde wabula Wambuzi , ng'asinzirira ku nsala ya Kkooti y'e Jinja, yalemerako. Kino kye kyavuddeko okwepena enkiiko zaabwe, ne yeerabira nti yali alina kubeegattako abatokote ng'ali munda. Laba bwe bamugabako ekintu ng'ali mu Lubiri lwa kitaawe e Nakabango, ekyesudde kiromita 7 zokka okutuuka we baagabidde obwami!
Kamuswaga, Mengo in row over property, recognition
(There are no hereditary rulers in a Democratic Republican state)
Publish Date: Sep 14, 2014
KAMPALA - The fight for properties and recognition is soiling the relationship between Kamuswaga Apollo Ssansa Kabumbuli II of Kooki and Mengo.
It is understood that the Kamuswaga is extremely bitter with Mengo for refusing to return 13 land titles belonging to Kooki and failing to accord him the respect he deserves.
Sources say the Kamuswaga has decided to distance himself from Mengo and ally with other aggrieved chiefs in the kingdom, such as Ssabanyala Baker Kimeze.
The land titles in question are part of the bulk the central government returned to Mengo recently, following the signing of a memorandum of understanding with the cultural institution last year.
Kamuswaga's spokesperson Stanley Ndawula told Saturday Vision that they were surprised that Mengo chose to retain the 13 titles that belong to the Kamuswaga and Kooki.
"Since the agreement between Mengo and the Government states that areas with cultural institutions should retain their administrative units, I don't see the reason why Mengo should keep our land titles," Ndawula said.
He added that they want Mengo to respect the agreement, even if it has some bitter pills.
But Buganda spokesperson Sengendo Walusimbi said the Kamuswaga should direct his grievances to the central government, not Mengo.
"The titles which were returned had been confiscated by the Obote's government from Buganda, not Kooki," Sengendo said.
The tension is reportedly fuelling secession sentiments in Kooki, although Ndawula said the issue could not cause a break-away.
September 1, Kamuswaga, the Ssabanyala and Ssabaruuli Constantine Butamanya Mwogeza petitioned the Government against the planed handover of 84 other properties to Buganda.
The handover was supposed to take place last week, but was postponed on grounds that President Yoweri Museveni, who wanted to grace the function, was committed.
The Kamuswaga is also reportedly unhappy with the way Mengo officials treat him. Ndawula noted that whereas the Kamuswaga is an independent cultural leader in Buganda, like the Kabaka, he is being treated like a county chief.
"The Kamuswaga is supposed to have an official chair in Buganda's parliament. That provision has never been implemented by Mengo, leaving him with no representation in the Lukiiko," Ndawula said.
He added that after the installation of the Kamuswaga, a supporter bought him a special chair to sit on during the Lukiiko, but some officials in Mengo blocked him from using it.
"Some people in Mengo do not want to recognise the 'Kamuswagaship', but we are not going to allow that," he said.
Kooki became part of Buganda Kingdom in 1896 following an agreement between then Kabaka Mwanga and Kezekiah Ndahura, the then Kamuswaga.
Ndawula explained that in the agreement, the Kamuswaga remained a hereditary cultural leader, who is not appointed by the Kabaka, like the other 17 county chiefs.
But Sengendo maintained that Kamuswaga is a county chief, citing the Constitution of Uganda, which states that Kooki is part of the kingdom.
He advised Kamuswaga's officials to read the 1896 agreement, which the then Kamuswaga signed with Buganda. "The Kamuswaga gave the county to Buganda and that was all."
Mmengo nate egezaako okubanja ssente za Muteesa House, London, UK. Ekizimbe kino e Bulaya kyatundibwa mukavuyo kokulanga Uganda okuba Republic mu Central Government ya Obote 1966:
Bya DICKSON KULUMBA
MMENGO etegeezezza nti ensimbi ezaabalirirwa mu nju ya Muteesa House e Bungereza obukadde bwa pawundi butaano nga zino Gavumenti ya wakati z'erina okuliyirira Obwakabaka bwa Buganda olwa Gavumenti ya Uganda okutunda enju eno.
Katikkiro, Charles Peter Mayiga ye yayogedde omuwendo guno bwe yabadde ku mukolo gw'okujjukira ebirungi ebyakolebwa omugenzi, Abu Kakyama Mayanja mu kuzzaawo Obwakabaka bwa Buganda obwali busaanyiziddwaawo mu 1966, gavumenti eyali ekulemberwa Milton Obote n'ewamba ebintu bya Buganda nga gwabadde ku Sheraton Hotel ku Lwokubiri.
Mayiga yagambye nti, "okusinziira ku ndagaano gye twakola ne gavumenti, erina okuliyirira Obwakabaka olw'enju eno eyatundibwa kubanga yali yaffe nga twagibaliriddemu obukadde bwa pawundi butaano."
Katikkiro Mayiga ye yabadde omwogezi omukulu ku mukolo n'alaga nti Abu Mayanja yakola kinene mu kukumaakuma Bannayuganda nga basinziira ku nju eno n'ategeeza nti Mayanja yali omusajja Omuganda kyokka ayagala ennyo ensi ye Uganda. Obukadde bwa Pawundi 5 bulimu eza Uganda obuwumbi 23 shillings.
Omukolo guno gwategekeddwa aba Abu Mayanja Foundation ekibiina ekitumbula omugenzi bye yakola. Dayirekita w'ekibiina kino, Uthman Mayanja yeeyamye ku lw'abaana b'omugenzi, okuteeka ekiragiro kya Katikkiro mu nkola eky'okuwandiika ekitabo ekirambulula Mayanaja bye yakola.
Mariam Nasejje Mayanja, nga mukyala w'omugenzi era Minisita mu gavumenti ya Kabaka yategee¬zezza nti Abu Mayanja yali musajja ayagala Kabaka we ng'olumu yavaako mu mmotoka n'afukamira nga Kabaka amukubidde essimu n'ayongerako nti guno gwabadde mulundi gwa kutaano ng'omusomo ogwejjukanya ku bye yakolera ensi, gutegekebwa okuva mu 2007.
Mayiga bwe yabuuziddwa oba wakyaliwo omukisa gw'okukola ekibiina ky'obufuzi ekyefaananyirizaako Kabaka Yekka ekyaliwo mu myaka gy'enkaaga, yagambye nti kizibu mu kiseera kino kubanga Kabaka w'abantu bonna n'asaba abantu okulwanirira ensonga Ssemasonga ettaano. (One wonders in these times what political party to this prominent citizen of Uganda belongs?)
Nb.
Banange Kabaka wa Buganda si Pope.
Afuga nsi ye wekoma. Anaaba atya owabantu bonna nga ate newuwe taliyo oba talinayo.
Jinja Market in Busoga Kingdom has a new building that is already cracking away. It cannot be condemmed!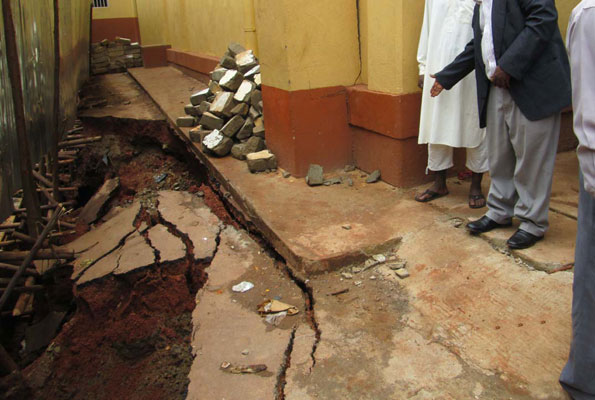 Poor workmanship. Dodgy Work. Unprofessional. Only looking for votes.
By ISAAC MUFUMBA

Posted Friday, May 22 2015
IN SUMMARY
Jinja Central Market was commissioned last year in November by President Museveni and became operational in February. However, barely six months later, the market has developed cracks and is flooding, which has left many traders counting losses.
He wriggles through the mass of bodies standing on either side of the narrow corridor leading to his office. Jinja Mayor, Haji Muhammad Kezaala, cannot freely access his office. He is a besieged man.
The siege has been on since the night of April 3 following a downpour that resulted in flooding of the newly-constructed Shs28b Jinja Central Market. This left many traders counting losses after water leaked into hundreds of stores causing extensive damage to merchandise, mostly stuff such as sugar, rice, maize flour and beans.
"My entire stock was purchased using a loan from a micro finance (institution). I have fallen back on payments. If I don't sell the few household items I have, I will end up in prison," says Hajati Masitula Namwebya.
Help needed
Namwebya is one of the many besiegers, mostly female market vendors, who are demanding that Kezaala either gives them financial relief or helps negotiate with the Micro Finance institutions that had lent them working capital.
"I would love to help, but I don't have the resources to generate the working capital that some of them are asking for. I am just trying to engage the financial institutions," says Kezaala, with exasperation written all over his face.
The flood came less than three weeks after massive cracks were discovered in parts of the market. The market, which was constructed through the African Development Bank (ADB) under Markets and Agricultural Trade Improvement Programme (MATIP- 1), was commissioned by President Museveni on November 17, 2014. However, it became operational in February.
Within less than five months of occupying it, the vendors have jubilated and wept bitterly in equal measure. If the words of Muzamil Musenero are anything to go by, it is a facility that they love and hate.
"We don't know whether to laugh or cry or do both. Sometimes it makes us deliriously happy, but then something happens and we end up sad," Musenero says.
Matters of contention
Kezaala, who claims the town's officials were denied access to the site during construction, blames everything on Ms Vambeco Enterprise for carrying out substandard work.
"We wanted to supervise this work as local leaders, but we were denied a chance. We weren't even allowed to step inside during the construction. I am therefore not surprised when I see the magnitude of defects," he says.
Traders have since complained about the size of the stalls, which they claim are too small, adding that the structure's drainage system cannot mitigate the effects of flooding.
The resident director of Vambeco in Jinja, Budget Mugabirwe, denies having refused the town's leadership access to the market during its construction.
"Vambeco never did anything outside the plans, which were approved by Jinja Municipal Council, the Ministry of Local Government and the Ministry of Works. We were also supervised by Arch Design," he says.
An April 9 letter from the Acting Permanent Secretary Ministry of Local Government, Patrick Mutabwire, to Arch Design would appear to absolve Vambeco.
"The drainage system was silted hence causing flooding of the market. Furthermore, the drainage of water towards the private developer's plot were blocked causing backflow and consequently flooding of the market," the letter reads in part.
Game plan
Jinja Municipal Council Engineer Saidi Muhammad, says much as the blockage was outside the construction site, it had a negative effect on the flow and that the council is working with Ms Birus Services Limited who are developing the adjacent plot to rectify the problem.
Mutabwire's letter, however, advises Vambeco to redirect water from the entire roof to discharge outside the market and construct new appropriate drainage channels, extend the roof near the open spaces and reinforce or replace the roof drainage gutters.
So why didn't the contractor do so?
"We built according to the plans that were provided. We neither drew up nor altered the design. If you cared to look, you will notice that this plan and design is similar to other ADB funded markets in other locations and I am sure the contractors there followed the plans they were provided with," he says.
Where is the problem?
This makes us wonder why the firm is implementing the directives issued by Ministry of Local Government.
When asked about the same, Mugabirwe says: "Those are new designs, which were never part of the original contract. It is a new piece of work that we have to be paid for."
Parliament speaker Rebecca Kadaga's warning to western Uganda politicians meddling in Busoga politics has drawn both support and condemnation.
Among the most damning reactions was that of Amama Mbabazi, the former prime minister now pushing to take over both the NRM and the government.
In a video that has been circulating on social media, Kadaga mentions names of prominent politicians from western Uganda, who she accuses of using Basoga for their selfish agendas. She says she is aware of meetings convened at night in Busoga on behalf of Mbabazi.
Since the start of the 9th parliament, the relationships between Kadaga and President Museveni and Mbabazi and Museveni have gone in opposite directions. Kadaga gained acclaim from opposition politicians for her apparent ability to stand up to an overbearing executive; but some now see her as more acquiescent to Museveni.
Meanwhile, Mbabazi, who started off as President Museveni's blue-eyed boy, has now become the closest politician to Museveni to try to force the president into retirement. At the same time, the relationship between Kadaga and Mbabazi has always been icy, with the speaker openly critical of Mbabazi's time as leader of government business.
In an interview with The Observer last week, Kadaga, the woman MP for Kamuli, defended her remarks, saying: "No, but why should another tribe decide for another tribe? The Basoga are a tribe of four million people. Why should a Mukiga decide for us or a Munyankore for that matter?"

NOT NATIONAL
On Monday, during the Ask Amama session with journalists, Mbabazi was asked what he made of Kadaga's warning against western politicians.
"Which Kadaga is this?" Mbabazi said rhetorically. "The speaker of parliament?... I am surprised, and I don't want to give credibility to this sectarian talk because it is really pedestrian."
Mbabazi said Kadaga was speaking out of desperation.
"I think I have heard what Kadaga has been saying, but I have no idea about it. She should desist from sectarian talk because it's not reflective of a national leader," Mbabazi said.
Earlier, during NTV's Sunday show Fourth Estate, Mbabazi denied fighting Kadaga. He promised to discuss the matter at an appropriate time and in a right forum.
"The right Honourable Kadaga, yes, I have heard her calling me all sorts of names, complaining that I am fighting her. It's not true, I am not fighting her, I have no reason to do so," he said.
"She is saying that I cannot be president of Busoga because how can I be a president of Busoga [when] I am a man from Kanungu and she says she is not sure whether I am a Rwandese or a Congolese. Well, those are serious statements from a national leader and I think at an appropriate time and in a right forum, we will discuss that."

OTHERS WEIGH IN
Frank Gashumba, a media commentator, said Kadaga's remarks belong to the stone-age.
"That talk [by Kadaga] to me, [belongs to the] stone-age and it's very wrong of Kadaga to advise Basoga not to associate with other tribes because we are all one and I don't agree with tribal sentiments," Gashumba said.
Martin Muzaale, the Buzaaya MP (NRM), said he was not aware of meetings being convened by non-Basoga in Busoga to undermine local leaders.
"I have not heard of Mbabazi coming to Kamuli to meet people, but he who alleges must prove when and where those meetings took place," he said, adding: "…Kadaga is a national leader and she knows very well what she says means. Personally, I agree with one thing that Uganda is one people."
Ofwono Opondo, the executive director of the Uganda Media Centre, jumped to Kadaga's defense.
"I think she is right because people who are not residents in a particular area should not impose candidates on the area because it's not proper even within the constitution."
Charles Rwomushana, the former head of political intelligence in the Office of the President, said Kadaga's statements were motivated by stress.
"It's counterproductive on her part but you need to understand her levels of stress because the politics of Mbabazi and Museveni hinges on hatred," Rwomushana noted.
He explained that the "system is designed in such a way that they [Kadaga and the likes in NRM] destroy Amama [Mbabazi]…"

walusimbideo@gmail.com