Kabaka Ronald Mutebi has approved a grand redevelopment of his palace, which has been subdivided into four new plots.
The second deputy Katikkiro and minister of Investments, planning and economic development of Buganda Kingdom, Mr Waggwa Nsibirwa, said "all is on course."
"His majesty is pleased that the Lubiri should be redeveloped and the Katikkiro went into consultations. The first product of these consultations agreed on the land use and what can be done in Lubiri. However, the Kabaka directed that we should not lose sight of our cultural heritage as we implement the transformation," Mr Nsibirwa said yesterday.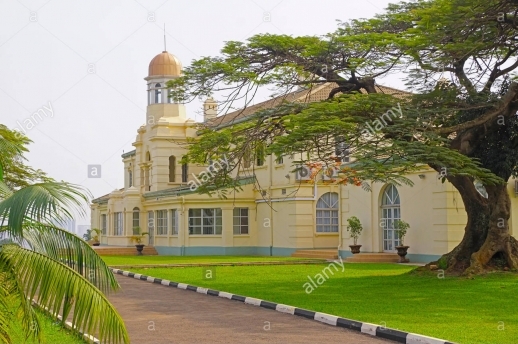 The old palace building built by the British colonialists
In the new arrangement, the Kabaka's current official house, Twekobe, will be occupied by a museum.
A surveying firm, RTK Surveys Ltd, has completed drawing the topographic aspects of the 216-acre land that is encircled by the Ring Road and a conclusive report on land use. The report has been approved by the administration at Mengo, according to Mr Nsibirwa.
RTK surveys has been paid Shs40 million for the job. Among the things in the topographic report are boundary demarcations, site elevations and water movements.
Other three firms have also signed agreements with the kingdom and will bag Shs400 million to draw the master plan within a deadline of 12 months starting this month.
These firms include Arc Forum represented by Robert Kiggundu, Gepoka Associates Ltd represented by Edward Kayiso Golooba (head of surveyors in Uganda) and Design Forum represented by Lugemwa Lugalambi.
Initially, the three firms presented their papers separately but sources said they agreed and made a singular proposal that they are already implementing as a joint group.
A source privy to the redevelopment, however, said a definitive redevelopment budget has not yet been tabled because the master plan is still being developed.
Other developments
The kingdom also looks forward to investors who can make a housing project in Buswa, Wakiso District and those that can lease land to undertake agriculture.
Buganda constitutes 25 per cent of the Ugandan population with approximately 10 million people.
Background
The Kabaka made a directive to revamp the palace and make better use of the prime land within the city suburb of Mengo to suit the modern standards.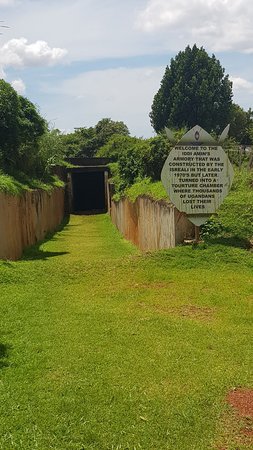 The Idi Amin building where the dictator tortured the citizens of Uganda to death
The earlier proposed controversial plans for the construction of an airfield and shopping malls, which were earlier on opposed by some Baganda, was dropped.
Mengo then selected a seven-man committee chaired by Mr Francis Kamulegeya, the country director of PriceWater- HouseCoopers, which has now zeroed in on four projects and the new set up will now have a multipurpose modern palace on (70 acres); a specialised teaching hospital (60 acres), schools that will include a kindergarten, primary and high school (25 acres) as well as a Buganda cultural village that will comprise an exhibition centre, cottage industries, ceremonial grounds, a model of Kiganda homestead and a garden (61 acres).
Museum
In the new arrangement, the old palace will be converted into a museum that will mainly showcase Buganda's heritage, historical aspects, and participation in the national politics, among other things, according to Mr Kamulegeya.
The new palace will be constructed with five-star facilities that will include banquets, conference rooms and lodging rooms for Kabaka's top visitors, among others.
editorial@ug.nationmedia.com