How the Lake Victoria environment project came to be dead in the water:
By Erst Lutz
FRIDAY OCTOBER 5 2018 and Reproduced 30 January, 2019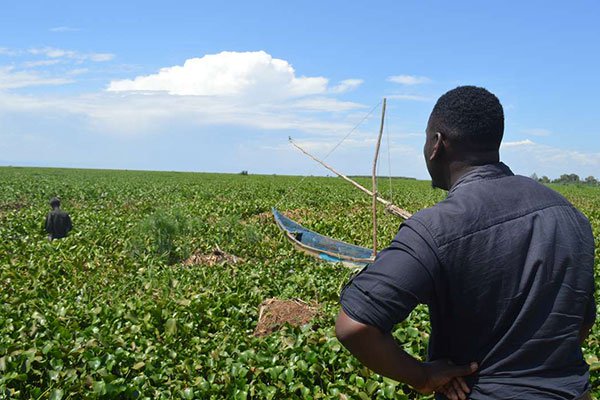 Fishermen at Lake Victoria in Homa Bay on September 11, 2018. Water hyacinth has chocked the lake and interfered with fishing and transport activities. PHOTO | TONNY OMONDI | NMG
In Summary
The water hyacinth harvester costing around $1m has been sitting unused in the harbour of Kisumu for three years.
President Uhuru Kenyatta of Kenya recently "issued a directive freezing all new government projects until ongoing ones are completed… the directive is aimed at stopping wastage of resources and the habit of government agencies abandoning incomplete projects and starting others" (Daily Nation, July 20).
Using the example of the Lake Victoria Environmental Management Project Phase 2 (LVEMP2), this commentary suggests that projects not only need to be completed, but also need to be completed well. LVEMP2 did no baseline work and hardly any substantive monitoring.
Therefore, claims of satisfactory achievements in the five governments' completion reports are not credible, given the limited factual basis.
Since international development loans must eventually be repaid, it would be in the countries' best interest to make sure that there are good payoffs for the funds invested.
The Lake Victoria Programme started out in 1997 with good intentions. Phase 1 was assessed as marginally satisfactory, and in Phase 2, achievements were modest, considering the facts on the ground.
The project implementation performance between 2009 and 2012 was unsatisfactory as
(i) actions on pollution control, sustainable land management, and the fishery were marginal during the first three years,
(ii) none of the seven dated covenants were adhered to, and
(iii) fraud was committed in Uganda between 2010 and 2012, followed by a suspension of disbursements till September 2013.
There were also limited achievements between 2012 and 2017. During the 2012 restructuring, the results framework, along with its indicators, was revised and downgraded. Examples:
(i) The indicator for pollution was "hotspots addressed" but no measurements were taken on how much sewage was reduced or how water quality improved;
(ii) Another key indicator was "hectares of sustainable land management" but incremental productivity or environmental benefits were not monitored.
Also, with two extensions, this originally 4.5-year project became an 8.75-year project, implying low implementation efficiency. For Rwanda and Burundi – with a restructuring and a closing date extension – this was 6.5 years.
Progress on regional harmonisation work was unsatisfactory. Joint management of common resources would make sense. It would, however, require a common incentive framework so that individual countries would be persuaded to undertake jointly agreed work.
But such a framework was not agreed, the Lake Victoria Basin Commission was ineffective, and EAC procedures prevented acceptable progress, such as on adopting and implementing water and fisheries policies or a data-sharing protocol.
Other selected concerns include:
(a) The water hyacinth harvester costing around $1 million has been sitting unused in the harbour of Kisumu for three years now, representing a significant waste of funds;
(b) The combination of the World Bank emphasising disbursements, and the weak capacity of low-level teams in environment or water ministries to manage multi-sectoral work, has been a systemic issue under LVEMP2. One example of this is the purchase of goats in November 2017 and the associated goat disease outbreak in Burundi caused by the project, with losses of a large number of goats and sheep;
(c) The large Lake Victoria fishery was neglected and continues to decline; this may also be applicable for Lake Rweru;
(d) The Lake Victoria Programme is now in its 21st year, but there is limited clarity about which environmental issues should be addressed, how, and what specific productivity and environmental benefits can be expected;
(e) The emphasis on disbursements as compared with outputs, outcomes and estimated benefits to communities;
(f) Given the strain in relations, teams from Burundi and Rwanda are not collaborating or even communicating within the same WB project!;
(g) The negligible relevance of actions by upstream countries on Lake Victoria via the Kagera River. No measurements were taken, but even if these had been taken, one can hypothesise that specific project actions in the two upstream countries do not show up in terms of improved Kagera water quality; and
(h) Wastage of funds does not necessarily involve corruption since independent annual audits are undertaken.
But one can observe high travel and other operational costs by national and regional teams with limited results and little permanent institutional capacity built.
There are incentives at work in national teams for high-grading.
Therefore, aside from Rwanda's action as good stewards of their International Development Assistance allocation, Kenya's, Tanzania's, Uganda's, and Burundi's ministries of finance should reconsider their preliminary commitments to Phase 3 in order to reduce inefficiency of IDA resources and invest these more effectively in single-sector projects where implementation capacities may be stronger and where better payoffs can be expected.
Ernst Lutz holds a PhD from the University of California at Berkeley and is a former senior economist at the World Bank. E-mail: ernstlutz2@gmail.com
In Uganda, 905 billion Uganda shillings (240 million dollars) is a good budget every year to look after Lake Nalubaale (Victoria) existing in the middle of the African vast continent:

Encroached. A man collects garbage at Lambu Landing Site in Bukakata Sub-county in Masaka District last Saturday. PHOTO BY ALI MAMBULE.
Dastan Onyango, 53, says: "I should have left this area long time ago. The conditions just keep getting worse. When it starts shining, it is like God is punishing us, and when it starts raining, it is a story of its own. But at this age where can I go? Where can I start from?"
A resident of Kowuor Village in Homa Bay County in Western Kenya, Onyango was still reeling from effects of the severe drought that affected parts of eastern and western Kenya between last November and June this year. From owning 35 head of cattle, he is down to six.
Homa Bay and the neighbouring Kisumu County, which ironically are on the shores of Lake Victoria, and parts of Vihiga and Kakamega counties in western Kenya, have since the beginning of the year been on a drought alert — with little or no rain at all, leading to rivers, boreholes and ponds drying up, and no pastures for animals.
This year's drought was, ostensibly, an extension of last year's dry spell which the Food and Agriculture's Organisation (FAO) declared a "national disaster". It put some 2.7 million people in dire need — the most vulnerable being the elderly, sick, mothers and children under five.
For Onyango, the rain even did worse. As soon as it started, he turned focus to tilling his 5-acre farm but the floods nearly swept away everything. In October, he was not so sure of what to do next.
"You cannot plant during the dry season. You cannot plant during the rainy season. It is like some of us are cursed," he says as we walk around his shattered farm.
Officials say for rivers such as Mirui, Kuja, Awach, Mirui, and Nyando that run across the Kisumu and Homa Bay counties and other parts of western and central/rift valley regions of Kenya, some of which drain into Lake Victoria, drying up has become an annual routine.
"…but it is increasingly becoming complex and generating confusion," says Leonard Omondi Akwany, a coordinator at Ecofinder Kenya, a civil society organisation trying to drum up advocacy to save part of Dunga beach wetland in Kisumu.
"If the rivers are not drying up, they are flooding," Mr Akwany says, adding: "Extreme weather events such as floods and drought have become prevalent. Previously, communities thought that floods were the most serious but now, the drought is."
Mr Akwany says when the rivers draining into the lake dry up, the focus turns to the lake.
The causes of the rivers drying up range from encroachment of the river catchment areas for crop cultivation or human settlement to massive deforestation, and changing weather patterns.
Fifteen years ago, 45-year-old Adam Kidega recalls returning to the lake shores at Dunga, a longtime fishing village south of Kisumu Town, after a night fishing with his boat full of fish.
"It was always a bonanza. Today, it is a very different story," he recalls.
Despite spending a whole night out there on the lake, Kidega says like several other fishermen, one returns to the shore, with a handful of fish if lucky. If you want to be very lucky with the catch, you have to wander a little deeper into the lake, which is problematic, especially at night.
Both Onyango and Kidega's accounts point to one thing — human activity is squarely to blame for the ever-changing climate.
The Dunga Beach area, like most parts of Kisumu Town bordering Lake Victoria, is heavily colonised by water hyacinth, putrid algae and other invasive aquatic plant that won't let the fish breed. And they flourish due to the organic pollutant material that are carried by the rivers draining into the lake from near and far in western and central Kenya.
Removing, controlling or even killing the water hyacinth is not an easy process. In fact, in Kavirondo Gulf, which neighbours Dunga Beach to the north, the expanse colonised by water weeds can be easily mistaken for a green park.
The invasive water weeds form a thick green carpet-like layer covering a wider area crippling every activity around, from fishing to transportation.
Uganda has tried to manage its spread over the years, including through the previous LVEMP project in areas such as Kasensero in Rakai District and Port Bell in Luzira in Kampala, which were said to be the worst affected but other menacing activities such as sand mining that also threatens the lake materialised.
Wider water woes
Lake Victoria is considered one of the most important shared natural resources by regional countries; draining an expanse estimated at 194,200 square miles. The lake's basin is home to more than 40 million people who draw livelihoods directly from the lake, according to the World Bank.
The lake is the main source of water for domestic, industrial, and hydro power generation. It is a climate regulator, a reservoir of biodiversity and a medium for transport across three main basin countries — Uganda, Kenya and Tanzania.
Lake Victoria is also the main surface outflow for the world's longest river, the Nile. According to the 2017 Lake Victoria Basin Atlas, the largest portion of the lake basin, 44 per cent, lies in Tanzania, followed by Kenya with 22 per cent, while Uganda, Rwanda and Burundi make 16 per cent, 11 per cent, and 7 per cent, respectively. However, only Uganda, Kenya and Tanzania share the lake's 3,460 km shoreline.
Of the 40 million people estimated by the World Bank to be living in the basin, Kenya, according to the Lake Victoria Basin Commission (LVBC), has the highest population of 15 million in the lake's catchment area, followed by Tanzania with the main portion of the basin with 7.5 million, and Uganda with 7 million.
The LVBC is an organ of the regional grouping, East African Community, mandated to coordinate sustainable development and management of the Lake Victoria basin.
"The higher the number of people you have in a catchment area, the more the pollution and the more problems you get," Dr Ally Said Matano, the LVBC executive secretary, says.
"Kenya, with 6 per cent of the lake and a catchment area of 22 per cent, has a population of 15 million. If you take the size of the catchment area, then take the size of the population therein and the extent of socio-economic activities, and also look at the topography of Kenya (mainly hilly catchment areas) and several rivers draining into the lake, which come with a lot of drainage and sewerage, that is why you find that this part of the lake on the Kenyan side is highly polluted," he says.
Dr Matano reveals that degradation, especially on the lake's catchment areas and riparian zones, and pollution are the two main challenges threatening the lake, throwing in others such as climate variability, which he said has been materialising intermittently.
"99 per cent of the challenges the lake's basin face are not lake-based problems. They are problems in the catchment areas, and the drivers of those problems are people — whether the red soils flowing into the lake as a result of improper family methods, sewerage being drained into the lake, open defecating on river banks, name it," Dr Matano says.
Effects on the lake
In Kavirondo Gulf, for example, studies show that the levels of oxygen in the water is about 3.5 per cent against the normal oxygen levels of 8.6 per cent for fish to breed and survive.
The primary reason is the high concentration of pollutants, including sewerage of all substances carried into area by Kisati river stream that stretches through Ubungo slum, thus making the area highly conducive for water hyacinth.
"So really, there is a big connection between the catchment area and the lake. If we are to save the lake we cannot save the lake from the lake; we have to save the lake from the catchment area," Dr Matano adds.
According to the atlas, the basin consists of rivers, streams and wetlands. River Kagera, stretching from Burundi and Rwanda, provides the largest inflow into the lake, contributing up to 33 per cent of surface water inflow.
Other major rivers draining into the lake include Bukora and Katonga in Uganda; the Nzoia, Sio Mara, Yala, Awach, Gucha, Migori and Sondu, in Kenya; and the Mori, Simiyu, Grumeti, Mbalageti and Magogo-Moame in Tanzania.
According to the UN Environment Programme, inland freshwater ecosystems or terrestrial water ecosystems provide our water for drinking, food, industry and energy. In addition to their productive uses, freshwater bodies are also essential habitats for biodiversity. Although freshwater makes up only 0.01 per cent of the world's water, it supports almost 6 per cent of all of its described species.
"Their essential role in society and multiple uses mean freshwater ecosystems are disproportionately important," says Lis Mullin Bernhardt, freshwater ecosystems expert at UN Environment Programme.
"But unfortunately, they are also disproportionately under threat in that they bear the brunt of human activity, climate changes and a number of other factors," she says.
Over the past 40 years, freshwater species populations, according to the UN, have declined by 81 per cent – more than double the rates seen in species both on land and in the oceans. At the same time, it is estimated that since 1900, around 70 per cent of inland water bodies have disappeared, with even higher numbers in some regions such as Asia.
The Lake Victoria basin atlas indicates that the entire basin's ecosystem continues to undergo substantial changes as a result of pollution from industry and agriculture, the proliferation of waterweeds, over-fishing, the introduction of invasive alien species and land degradation.
"Algal blooms are prevalent in the lake to the extent that water transparency declined from five metres in the 1930s to less than one metre in the 1990s. The proliferation of the water hyacinth weed impedes the flow of water for irrigation, hinders navigation and interferes with hydropower schemes. The introduction of the Nile Perch is blamed for the decline in the number of fish species from more than 400 to about 200," the atlas report notes.
Highly threatened
The Swiss-based International Union for Conservation of Nature and Natural Resources (IUCN) in a 2018 study titled Freshwater biodiversity in the Lake Victoria basin shows that freshwater ecosystems within the region are highly threatened, with current safeguards proving inadequate. The focus of much past and ongoing conservation work in the region is on terrestrial ecosystems.
"Freshwater biodiversity in the Lake Victoria Basin is in decline and the risk of species extinctions is increasing, with the major drivers of threat identified as pollution, biological resource use, primarily overfishing, agriculture, and invasive species, particularly Nile Perch and water hyacinth," the IUCN study notes.
Climate change is an ongoing and future threat to freshwater species, especially fish, which are shown to be particularly vulnerable, the report indicates.
On the Ugandan side of the lake, the permanent secretary in the ministry of Water and Environment, Mr Alfred Okot Okidi, says the Katonga and Kagera swamps are the most degraded and urgent efforts are needed to "save the situation".
Out of the $240m (Shs905b), at least $60m (Shs226b) is earmarked for interventions in Uganda, including among others, evicting people from the lake's key catchment areas and giving them alternative livelihoods in part of south western and eastern Uganda.
The programme is expected to kick off next year in September. However, Mr Okidi reveals that current projections show the situation is worse on the Kenyan side.
Uganda has again lost more of its people dead in Lake Nalubaale (Victoria)due to a boat accident:
Modern marine investment and management on this Lake is still lacking in this country:
November 25, 2018
Written by The Observer Team
Several people have perished in a Saturday ferry accident that occurred in the waters of Lake Victoria in Mpatta sub-county, Mukono district.
Although police spokesperson Emilian Kayima yesterday said marine police had rescued 40 people who were on board, deputy army spokesperson Lt Col. Deo Akiki today said only 27 people were rescued alive. 30 bodies have so far been retrieved from the waters. Police has indeed revised its figures and confirmed that only 27 people were rescued last night.
Akiiki said the chances of finding any more survivors are diminishing after being in the waters for over 12 hours and counting. The ferry reportedly had more than than 100 people on board according to some of the survivors.
Approximately 120 people are said to have been on the boat and some survivors said it was overloaded although the registration list had only 104 names. It's possible that some passengers may not have registered while boarding. According to police sources, more than 70 people are still missing.
The blue boat that capsized belongs to the management of KK Palm beach on Mpatta island in Mukono district. The boat usually docks at Ggaba landing site to take partiers to KK Palm beach every weekend. This particular cruise had been marketed as an end of year boat cruise and attracted several middle class passengers, socialites and celebrities including Buganda kingdom prince David Wasajja, artists Iryn Namubiru, The Mith among others.
Among the dead are local fishermen who rushed to rescue people from the sinking ferry that was reportedly taking in water through a hole at the base after it was perforated by the tractor that was used to 'push' the ferry into the waters from it's repair centre. One rescue boat reportedly got overloaded by the survivors who were by now fighting for the few available life jackets. The rescue boat also sank, drowning more people.
According to accounts by some of the survivors, the ferry started sipping in water through hole and although passengers were told to spread out so as to 'balance' the ferry, they were too drunk and in party mood to listen to the warnings. Also, videos and pictures posted on social media by the revelers before the accident show several people without life jackets.
According to some survivors, the captain of the ship reportedly warned the passengers that the boat had a mechanical fault and wanted to cancel the cruise and dock near a rock for the passengers to get as they waited for rescuers. Rescue boats were reportedly dispatched but turned back after seeing that the ferry was continuing with its voyage after passengers insisted on first getting to their destination.
The celebration of the passengers as they enjoyed sailing on the Ancient African Lake before the tragic end of it all, Saturday, 24 November, 2018.
Meanwhile, the police and the army marine units have located the wreckage of the ferry and Akiiki said some nine bodies have been retrieved with many more still trapped inside the old fashioned wooden boat.
Nb
Of recent in this paper 22 September, 2018, some of us warned this Great Lake region that the Uganda Revenue Authority policy of taxation was discouraging formal investment in the public use of this lake. Such single bow wooden boats are very much out of use. It is two strong plastic boats that are adjacent to each other that are joined up to make some sort of a raft that would make an economic passenger load with better health and safety controls. There were not enough life jackets because they are expensive in Uganda and passengers are encouraged to board the boats anyhow.
The lack of modern international investment in the great inland lake of Nalubaale(Victoria):
That sinking feeling; More African citizens are dead in one of the largest fresh water Lakes in the world, Lake Nalubaale(Victoria):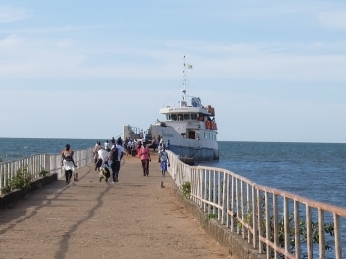 A picture of MV Nyerere at the dock in Bugolora, Ukerewe Island, taken in October 2015 before it sank.

For a fleeting few days, perhaps even weeks, the mounting body count from the MV Nyerere disaster – officially more than 200 – is likely to focus attention of the lack of maritime safety in East Africa.
Because of their carrying capacity – which means shocking numbers of dead – vessels such as MV Nyerere, which capsized off Mwanza on September 20 and the MV Bukoba, which went down with more than 800 people in May 1996, draw attention to the reality that death is routine in East Africa's inland waters.
At one point, Lake Rescue, a volunteer group that has been trying to promote a safety culture on Lake Victoria, put the annual loss of life there in excess of 5,000.
Most of these deaths occur on small passenger and fishing vessels that barely make a headline, perhaps because they are so frequent that they are no longer seen as an abnormal event.
But death on regulated water transport such as happened in the MV Nyerere and MV Bukoba cases, reveals disturbing gaps in the region's maritime regime.
One area of weakness is search and rescue, the other is regulation. In both events, the number of victims remained fluid to the extent that the final toll figures are mere estimates. This is because is no robust system for ensuring that operators stay faithful to the manufacturer's recommended carrying capacity, hence the routine overloading.
The question of numbers featured prominently in this past week's tragedy as the death toll quickly passed the vessel's design capacity and yet there were survivors.
Designed to carry just 430 passengers, when the counting stopped, 894 passengers died when MV Bukoba went down in 25 metres of water within sight of the shore. Yet despite remaining buoyant for more than 24 hours, all those lives were lost because there was no way to achieve a safe rescue.
Although it did not involve loss of life, the loss of MV Kabalega, a Uganda wagon ferry, after a collision with sister ship MV Kaawa in May 2005, offers insights into what ails maritime management in East Africa.
An inquiry later established that both Ugandan vessels were at the time of the incident being manned by untrained crew, lacked working communication gear and valid marine insurance.
Regional governments obviously place a higher value on money than human life. Hence while they all jealously guard their fishing zones in the lake, there is no comparable lifeguard service active in any of the three countries.
The colonial-era navigation infrastructure has long been non-functional and moving about the lake is largely a matter of trial and error.
The latest tragedy is an appropriate starting point for the search for accountability for what happens in the lake. At some point, the Lake Victoria Basin Commission said it had secured a $35.8 million grant to improve safety.
Kenya, Uganda and Tanzania are supposed to establish a Lake Victoria Maritime Communications and Transport System that would include regional maritime rescue communication centres in Mwanza, Kisumu and Entebbe.
The centres are to be supported by 22 emergency search and rescue stations distributed around the lake, equipped with fast rescue boats and trained crews. What progress has been made towards this?